Nail Fungus Treatment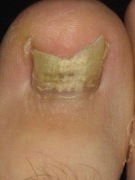 A nail fungus infection (onychomycosis) is usually caused by trichophyton rubrum, a dermatophyte that invades the nail bed and underside of the nail plate.
Due to the location of the infection, topical creams are frequently ineffective for many people, and oral medications can lead to health risks such as liver enzyme damage. As if this wasn't bad enough, medical treatments are only effective in a small percentage of users. The treatment of toenail fungus has previously been very difficult due to the location of the fungus both underneath and inside of the nail. A breakthrough happened when the FDA approved a 1064nM nd:yag laser as suitable for treating nail fungus.
Following a consultation to diagnose the condition, patients are referred for a course of laser treatments. One session may be sufficient, but three sessions are often required. If the condition is over ten years old, five sessions may be necessary.
The consultation with a qualified chiropodist and your first laser treatment is €139, and subsequent sessions priced at €99 each session.
Nail fungus removal treatments are currently available only in our Dundrum branch, phone 01 2166778